In this week's installment of The Adventures of Team Work Wear, our personal protective experts encounter the devastatingly deceiving BLIND SPOT. He doesn't aim to be ableist, but he DOES aim to attack innocent working class folks who just want to get the job done and go home. In this episode, we meet Vincent, a roadside worker who is tired from a long day of work, isn't wearing Class E Hi Vis Pants, and is losing track of the daylight hours…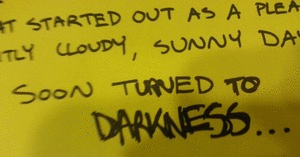 [Text] What started out as a pleasant, lightly cloudy, sunny day SOON TURNED TO DARKNESS…
[Text] Vincent was working late… AND IT WAS GETTING DARK. With his Class 2 Vest, he was prepared for day time traffic exceeding speeds of over 25 mph… but what he was NOT prepared for was… THE BLIND SPOT. (Vincent is not wearing High Visibility Pants… just regular jeans!)
[Text] When the sun sets, the Blind Spot gains more power… and the more power he gains, the more hazardous visibility conditions begin to… reveal themselves.
[Text] Suddenly the Blind Spot makes his move! (IS THAT SEXUAL HARASSMENT, TOO?!) Vincent is pushed into the road, right in front of an oncoming truck like a deer in the headlights. IS IT TOO LATE FOR VINCENT?
[Text] It's never too late with TEAM WORK WEAR!
[Text] FR Pigeon and WP Duck swoop down in the nick of time to save Vincent from the oncoming traffic. They fight over who's got Vincent. Then, Captain Hi Vis blinds the Blind Spot with her Class E garments! The Blind Spot cries out, "Nooooo!!!!"
[Text] Steel Toad trips the Blind Spot. "Ow." "GAH!" Then Electrical Hazard gives the Blind Spot the shock of his life! Finally, Tacticat cuffs and books him. Bet he didn't see that coming! Thanks, Tacticat!
[Text] And a hearty THANK YOU to Team Work Wear from Vincent, just another road worker saved by the appropriate high visibility apparel standards! The end!
Tune in next time for more adventures with Team Work Wear, brought to you by BareBones WorkWear.
For more information of high visibility clothing, please visit this safety guide.